WatchGuard Firebox T35

WatchGuard Firebox T35 - Up to 203 Mbps UTM full scan, 480 Mbps Firewall IMIX, 168 Mbps VPN IMIX, - 5 Gb Ethernet interfaces, incl. 1 PoE+

Sorry, this unit has been discontinued and is no longer available for purchase, replace by Firebox T40 or please contact us for the recommended replacement. If you currently own this Model, please click here to participate in the WatchGuard Trade-Up Program! You can also purchase available renewals below.
More pricing below, click here!

Please Note: All Prices are Inclusive of GST
Overview:
Available with optional integrated wireless module Up to 523 Mbps UTM throughput, 5 x 1Gb ports
BIG SECURITY FOR SMALL BUSINESSES
Perfect as a stand-alone solution for a small office, Firebox® T35 and T55 appliances are also ideal for larger organizations that want to extend easy-to-use, full Unified Threat Management (UTM) protection for smaller sites. With more features than any other UTM firewall in its market, these appliances are small, cost-effective security powerhouses that deliver nearly every feature present in WatchGuard's higher end UTM appliances, including all security services in the WatchGuard Total Security Suite.
By standardizing on WatchGuard for network security, we were able to decrease the average installation time by more than 75 percent - now averaging anywhere from 15-20 [minutes] per site. We just plug the appliance in, it establishes a connection and pulls the configuration file. We are then up and running, and free to focus our time on testing credit card processing and access to approved web sites.

~ Dustin McCreight, Product Manager, Network and Security Services, NCR Corporation
TOTAL NETWORK PROTECTION
Small businesses and remote locations have long been thought of as soft targets for attackers. WatchGuard Firebox T35 and T55 tabletop appliances bring enterprise-level network security to those small office/branch office and small retail environments that matches the reality of today's distributed work style. Our unique product architecture enables smaller businesses to leverage best-in-class security services - from URL filtering and intrusion prevention to application control and data loss prevention - minus the cost and complexity of managing multiple single-point solutions.
QUICK AND SIMPLE DEPLOYMENT
Cloud-based RapidDeploy technology, a configuration and deployment tool that comes standard with WatchGuard Firebox appliances, enables IT staff to create and store configuration data in the cloud - public or private - and have a new appliance directly shipped to its destination. Once the device arrives, it can connect to the cloud for a secure download of its configuration settings, saving staff travel time and money. This technology is particularly advantageous for large distributed enterprises where managing a multitude of devices efficiently across multiple locations and geographies is critical.
EASY TO MANAGE AND UNDERSTAND
Firebox T Series appliances are not only easy to initially configure and deploy, they are also designed with an emphasis on centralized management, making ongoing policy and network management simple and straightforward. WatchGuard Dimension, which is included with purchase, provides a suite of big data visibility and reporting tools that instantly identify and distill key network security threats, issues and trends so you can take immediate preventive or corrective action. Security is complex, running it doesn't have to be.
FEATURES & BENEFITS
Wireless versions of the T35 and T55 use 802.11ac operating in the 2.4 GHz and 5GHz bands for high performance and superior reliability.
All logging and reporting functions included with purchase, with over 100 dashboards and reports including PCI and HIPAA.
5 Gigabit Ethernet ports support high-speed LAN backbone infrastructures & gigabit WAN connections.
PoE port to power a peripheral device such as a WatchGuard Secure Wi-Fi Access Point, allowing administrators to extend the reach of their networks without having to run costly AC power to the remote device.
Video:
Specifications:
Firebox T Series
T35/ T35-W
T55/ T55-W
THROUGHPUT


Firewall
940 Mbps
1 Gbps
Firewall (IMIX)
480 Mbps
500 Mbps
VPN (UDP 1518)
560 Mbps
360 Mbps
VPN (IMIX)
96 Mbps
148 Mbps
Antivirus
325 Mbps
636 Mbps
IPS (fast/full scan)
573 / 300 Mbps
636 / 444 Mbps
UTM (fast/ full scan)
278 / 203 Mbps
523 / 378 Mbps
CAPACITY


Interfaces 10/100/1000*
5
5
I/O interfaces
1 SRL/2 USB
1 SRL/2 USB
PoE ports
1
1
Concurrent connections
1.3 M
1.3 M
Concurrent connections (proxy)
135,000
135,000
New connections per second
6,800
9,500
VLANs
50
75
WSM licenses (incl)
0
0
TDR Host Sensors included
20
35
Authenticated users limit
200
200
VPN TUNNELS
Branch Office VPN
25
40
Mobile VPN
25
50
SECURITY FEATURES
Firewall
Stateful packet inspection, deep packet inspection, proxy firewall
Application proxies
HTTP, HTTPS, FTP, DNS, TCP/UDP, POP3, SMTP, IMAP, and Explicit Proxy
Threat protection
DoS attacks, fragmented & malformed packets, blended threats & more
VoIP
H.323, SIP, call setup and session security
Filtering options
Browser Safe Search, Google for Business
VPN & AUTHENTICATION
Cloud providers
AWS (Static/Dynamic), Azure (Static/Dynamic)
Encryption
AES 256-128 bit, 3DES, DES
IPSec
SHA-2, IKEv1/v2, IKE pre-shared key, 3rd party cert
Single sign-on
Windows, Mac OS X, mobile operating systems, RADIUS
Authentication
RADIUS, LDAP, Windows Active Directory, VASCO, RSA SecurID, internal database, Duo, SMS Passcode
MANAGEMENT
Logging and notifications User interfaces Reporting
WatchGuard, Syslog, SNMP v2/v3 Centralized console (WSM), Web UI, scriptable CLI WatchGuard Dimension includes over 100 pre-defined reports, executive summary and visibility tools
CERTIFICATIONS
Security
Pending: CC EAL4+, FIPS 140-2
Safety
NRTL/C, CB
Network
IPv6 Ready Gold (routing)
Hazardous substance control
WEEE, RoHS, REACH
NETWORKING
Routing
Static, Policy-based routing (BGP4, OSPF, RIP v1/v2),
IP address assignment
Static, DHCP (server, client, relay), PPPoE, DynDNS
NAT
Static, dynamic, 1:1, IPSec traversal, policy-based
Wireless
Optional integrated 802.11ac dual band 2.4 GHz and 5 GHz Wi-Fi module
PHYSICAL AND POWER SPECIFICATIONS
Product Dimensions
8" x 8.5" x 1.8" (205.5mm X 217mm x 48mm)
Shipping Dimensions
12.1"x 10.2"x 7.2" (308x261x181 mm)
Shipping Weight
6.2 lbs (2.8 kg)
AC Power
100-240 VAC Autosensing
Power Consumption
12V, Max 15W
Power over Ethernet
802.3at(PoE+) at 25 W
ENVIRONMENT
OPERATING
STORAGE
Temperature
32° F to 104° F 0° C to 40° C
-40° F to 158° F -40° C to 70° C
Relative Humidity
5% to 90% non-condensing
5% to 90% non-condensing
Altitude
0 to 9,843 ft at 95° F (3,000 m at 35° C)
0 to 15,000 ft at 95° F (4,570 m at 35° C)
MTBF
T35/T35-W
499,632 hours at 25 C
T55/T55-W
422,351 hours at 25 C
STRONG SECURITY AT EVERY LAYER
Uniquely architected to be the industry's smartest, fastest, and most effective network security products, WatchGuard solutions deliver in-depth defenses against advanced malware, ransomware, botnets, trojans, viruses, drive-by downloads, data loss, phishing and much more. Total and Basic Security Suite packages are available on all Firebox solutions.
Options & Upgrades:
WatchGuard Security Services
WatchGuard offers the most comprehensive portfolio of network security services, from traditional IPS, GAV, application control, spam blocking, and web filtering to more advanced services for protecting against advanced malware, ransomware, and the loss of sensitive data. WatchGuard also offers a full suite of network visibility and management services.
Fundamental Security Services
Advanced Security Services

APT Blocker - Advanced Malware Protection
APT Blocker uses an awardwinning next-gen sandbox to detect and stop the most sophisticated attacks including ransomware, zero day threats and other advanced malware.

Data Loss Prevention
This service prevents accidental or malicious data loss by scanning text and common file types to detect sensitive information attempting to leave the network.

Access Portal
Access Portal provides central location for access to cloud-hosted applications, and secure, clientless access to internal resources with RDP and SSH.

Threat Detection and Response
Correlate network and endpoint security events with enterprise-grade threat intelligence to detect, prioritize and enable immediate action to stop malware attacks. Improve visibility by evolving your existing security model to extend past prevention, to now include correlation, detection and response.

DNSWatch
Reduce malware infections by detecting and blocking malicious DNS requests, redirecting users to a safe page with information to reinforce security best practices.

Dimension Command
Dimension translates data collected from all appliances across your network into actionable network and threat intelligence. Dimension Command gives you the power to take action to mitigate those threats instantly, from one central console.
One Appliance, One Package, Total Security
Simplicity is our mission at WatchGuard and that mission extends beyond how the product is built to how it is packaged. While all of our services are offered à la carte, we have worked to develop two packages that simplify the decision-making process. The Total and Basic Security Suite packages are available on our Firebox T and M Series appliances, as well as our Firebox Cloud and FireboxV virtual models.
The Basic Security Suite includes all of the traditional network security services typical to a UTM appliance: IPS, GAV, URL filtering, application control, spam blocking and reputation lookup. It also includes our centralized management and network visibility capabilities, as well as, our standard 24x7 support.
The Total Security Suite includes all services offered with the Basic Security Suite plus advanced malware protection, data loss protection, enhanced network visibility capabilities, a secure access portal, and the ability to take action against threats right from Dimension, our network visibility platform.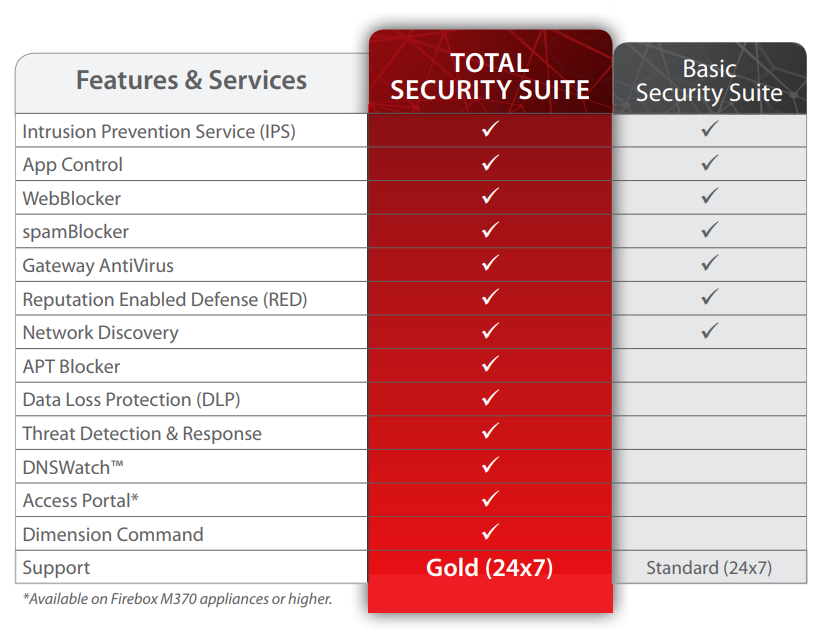 Pricing Notes:
All Prices are Inclusive of GST
Pricing and product availability subject to change without notice.
WatchGuard Products
Standard Support Support Renewal
WatchGuard Standard Support Renewal 1 Year for Firebox T35
#WGT35201
List Price: $270.00
Our Price: $216.00
WatchGuard Standard Support Renewal 3 Years for Firebox T35
#WGT35203
List Price: $720.00
Our Price: $576.00
Gold Support Renewal/Upgrade
WatchGuard Gold Support Renewal/Upgrade 1 Year for Firebox T35
#WGT35261
List Price: $352.00
Our Price: $327.00
WatchGuard Gold Support Renewal/Upgrade 3 Years for Firebox T35
#WGT35263
List Price: $843.00
Our Price: $675.00
WatchGuard Subscription
WatchGuard WebBlocker 1 Year for Firebox T35
#WGT35101
List Price: $377.00
Our Price: $350.00
WatchGuard spamBlocker 1 Year for Firebox T35
#WGT35111
List Price: $377.00
Our Price: $350.00
WatchGuard Gateway AntiVirus 1 Year for Firebox T35
#WGT35121
List Price: $377.00
Our Price: $350.00
WatchGuard Intrusion Prevention Service 1 Year for Firebox T35
#WGT35131
List Price: $377.00
Our Price: $350.00
WatchGuard Reputation Enabled Defense 1 Year for Firebox T35
#WGT35141
List Price: $377.00
Our Price: $350.00
WatchGuard Application Control 1 Year for Firebox T35
#WGT35151
List Price: $377.00
Our Price: $350.00
WatchGuard Data Loss Prevention 1 Year for Firebox T35
#WGT35161
List Price: $180.00
Our Price: $144.00
WatchGuard APT Blocker 1 Year for Firebox T35
#WGT35171
List Price: $418.00
Our Price: $334.00
WatchGuard APT Blocker 3 Years for T35
#WGT35173
List Price: $1,138.00
Our Price: $910.00
WatchGuard Network Discovery 1 Year for Firebox T35
#WGT35181
List Price: $377.00
Our Price: $350.00
WatchGuard Total Security Software Suite Renewal/Upgrade
WatchGuard Total Security Suite Renewal/Upgrade 1 Year for Firebox T35
#WGT35351
List Price: $1,695.00
Our Price: $1,356.00
WatchGuard Total Security Suite Renewal/Upgrade 3 Years for Firebox T35
#WGT35353
List Price: $4,650.00
Our Price: $3,720.00
WatchGuard Remote Installation Service
WatchGuard Basic Security Software Suite Renewal/Upgrade
Basic Security Software Suites include Standard Support (24x7), Application Control, WebBlocker, spamBlocker, Gateway Antivirus, Intrusion Prevention Service, Reputation Enabled Defense, and Network Discovery.
WatchGuard Basic Security Suite Renewal/Upgrade 1 Year for Firebox T35
#WGT35331
List Price: $835.00
Our Price: $668.00
WatchGuard Basic Security Suite Renewal/Upgrade 3 Years for Firebox T35
#WGT35333
List Price: $2,194.00
Our Price: $1,755.00
Accessories
Power Adapter with Round Connector (Green) for WatchGuard Firebox T35/T55 (WW)
Power Adapter for WatchGuard Firebox T35/T55 (WW)
#WG8033
List Price: $69.00
Our Price: $55.00
Rack Mount Kit for WatchGuard Firebox T35 / T55